In 2013, the Bay Area's nine counties completed a regional plan called Plan Bay Area that aligns with California's 2008 state land use and climate change laws (SB 375). SPUR has long advocated for a regional plan and provided key input throughout the Plan Bay Area adoption process, conducting related analyses on how to promote better regional planning and build a stronger Bay Area economy. Highlights of SPUR's contributions include:
The economic challenges to building a strong regional economy is compounded by the reality that middle-income jobs in the Bay Area are becoming scarcer as more and more job growth takes place at the high and low ends of the wage spectrum. SPUR is collaborating with a group of partners to help expand economic opportunities for low- and moderate-income Bay Area residents through its work on the Economic Prosperity Strategy, a key initiative of One Bay Area.
For the 2013 Index of Silicon Valley, SPUR wrote a special analysis on the economic benefits of governing the Bay Area as if it were a single economic region. The analysis focused on issues are difficult to address at the local level (limited housing production, fragmented transit delivery systems, job sprawl, fiscal inequities and climate change) and recommended potential strategies to address them.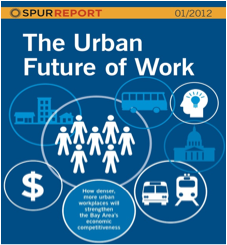 As the Bay Area economy began to improve, SPUR reported in its publication The Urban Future of Work that knowledge sector firms are embracing the benefits of urbanism and relocating to San Francisco and other transit accessible Bay Area cities because these companies recognize the locational advantages of being close to suppliers, collaborators, and urban amenities desired by their employees.
SPUR's Regional Policy Board advises on SPUR's regional planning endeavors and Libby Seifel chairs this Board for SPUR.