The Urban Land Institute (ULI) recognized its San Francisco District Council for providing six successful training sessions that taught the basics of real estate finance and development, how to structure successful public-private partnerships and strategies to accomplish new projects in a post redevelopment world to a broad range of San Francisco staff. As Jon Lau, Project Manager for SF OEWD, summarized of the impact of ULI's training,
"The sessions were packed with critical information. As participants, we are developing a better understanding of the building blocks necessary to evaluate project feasibility and gaining exposure to criteria relied upon for marketplace decision making, and it is valuable to gain insight on the thought process directly from developers."
The sessions achieved the two key purposes of the ULI Innovation Grant that helped fund the training:
1) provide tools to public agency staff to elicit the best quality from the private sector and 2) help strengthen relationships and collaboration across City departments.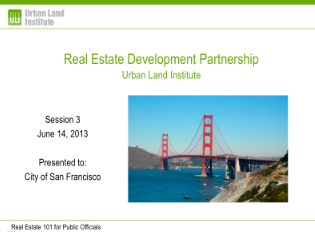 Libby Seifel in collaboration with Landon Browning of Lennar Corporation developed the training materials and taught the first three sessions on the basics of real estate finance and development.