Formerly dominated by underutilized properties and an abandoned freeway, the Transit Center District is now the site of a comprehensive planning and redevelopment effort to create a dense, walkable employment center that will feature housing at all levels of affordability, active retail and abundant public open space. The substantial public infrastructure investment needed to undertake this project is funded through a complex and innovative mix of public and private funding sources. The major rezoning of properties throughout the district, along with its significant amenities, has created substantial value while generating enthusiastic response among the development community.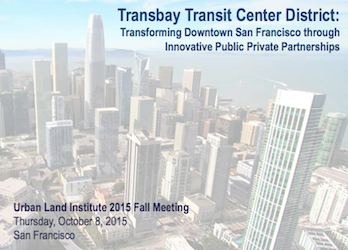 A concurrent session at the recent ULI Fall Meeting, "Transbay Transit Center District: Transforming Downtown San Francisco through Innovative Public/Private Partnerships" examines the redevelopment challenges overcome during the project and strategies used to create this new "Grand Central of the West" and its adjacent neighborhood.
Discussion leaders included Scott Boule of Transbay Joint Powers Authority, Tiffany Bohee of the San Francisco Office of Community Investment and Infrastructure, John Eudy of Essex Property Trust, Mike Grisso of Kilroy Realty Corporation and John Rahaim of the City of San Francisco. Libby Seifel served as moderator of the panel, in addition to her duties as local program co-chair of the ULI Fall Meeting.
A video of the session is available for viewing at ULI's webpage, here.